ANNOUNCEMENT:
As of Friday, November 20th, New Westminster Family Place has decided to postpone reopening our in-person programming until the New Year. Our number one goal is keeping our families safe, and with the latest province-wide COVID-19 restrictions, we believe it is the best and most responsible decision. We will still be active in our community, offering support and resources – plus we are planning some super fun activities and surprises! However, as per the public health order, we won't be gathering in-person.
For more information, click here!
We thank you for your patience at this time, and we can't wait to continue working with all the amazing families that make New West Family Place the wonderful community that it is.
Sincerely,
New West Family Place ❤️
---
CURRENT PROGRAMS
Nature Trails Family Challenge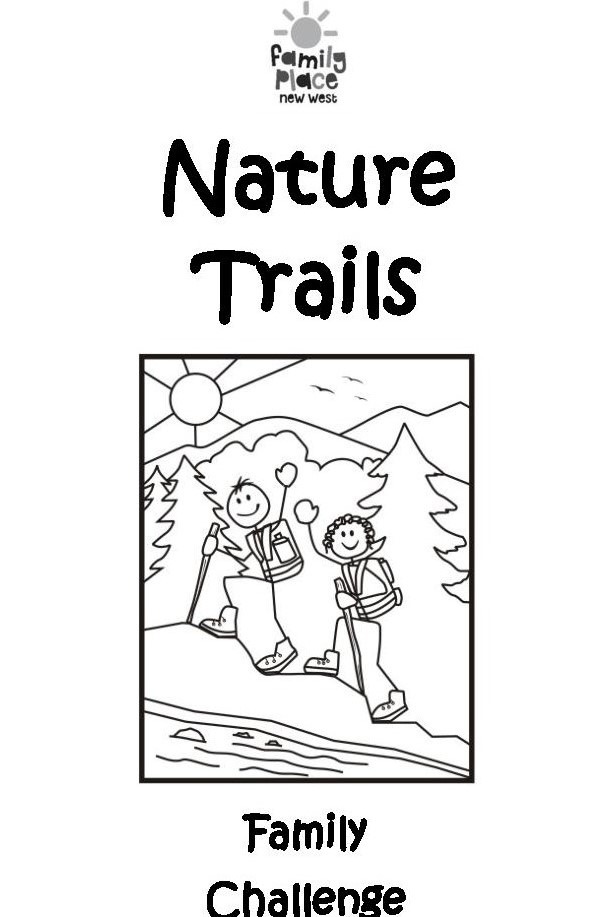 New West Family Place is excited to announce the kickoff of the very first Nature Trails Family Challenge!
This challenge is our way to encourage our families to explore New Westminster's fantastic nature trails. Following the steps below, your family can win a prize!
Step Two: Visit a minimum of 4 parks and place a sticker or checkmark on each completed page.
Step Three: Send a photo or video of your completed pages to anna@nwfamily.bc.ca by January 15, 2021.
Step Four: Prize will be sent to you by email as long as supplies last. One prize per family.
Family Fun Feature 
Every Saturday and Sunday at 8:30 AM, we will be posting a Family Fun Feature on our socials. A Family Fun Feature will be post with a super fun activity – from a craft, to a game, to a science experiment! Created by our Early Childhood educators, they have all been made to be a source of fun, creativity, and growth for our families and their children
Relax O'Clock
Every Monday, Wednesday, and Friday evening, we will be posting a Relax O'Clock on our Facebook.
What's a Relax O'Clock? Well, it's a time for our parents to chill out, relax, and talk to each other! Posts will be anything from DIY videos, to take-out recommendations, to funny memes! It's your time, parents!
Toy Lending Library
Are you looking for new toys? Our Toy Lending Library is now open for our families! We have a big selection of (sanitized) puzzles, pretend-play, and tons of other toys for children of all ages. Sign up for our Toy Lending Library today to borrow toys! To browse, CLICK HERE
---
What is New West Family Place? We offer drop in programs, workshops and parenting groups for all families to find support, strengthen their relationships with their children and their family members, enhance how they feel about their parenting, and build community connection and belonging. We are here so that families in New West can be empowered to THRIVE!
Who is New West Family Place for? Our programs are for families with children 0-6 years including grandparents, caregivers, extended and chosen family. We support and embrace families of every gender, background or socioeconomic status and we offer programs all around New West – across the community – touching every neighborhood – and at consistent times.
Who works at New West Family Place? Our team of child development and family support experts provide services and supports in multiple languages and work with families to ensure they connected to the services and supports they need when they need them.