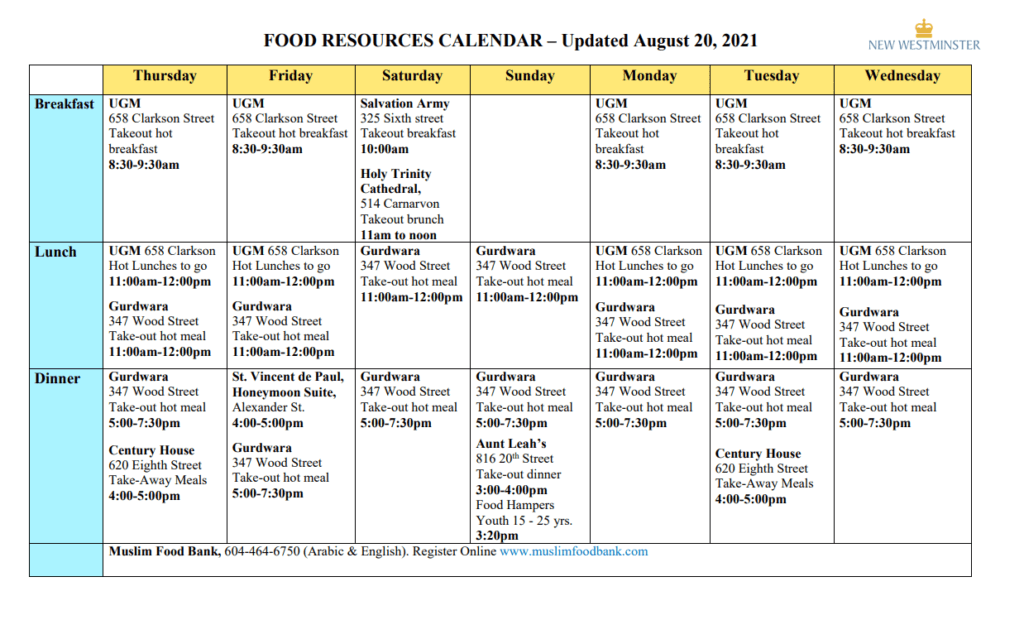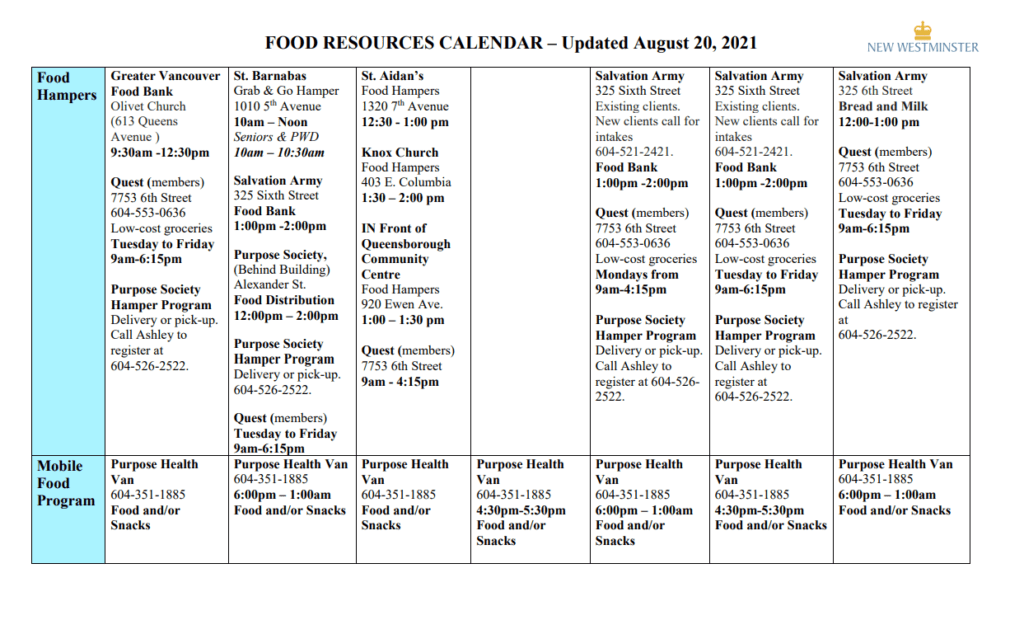 Free groceries. Four locations. Every Saturday. No barriers.
At St. Aidan's Presbyterian Church (1320 Seventh Ave), we serve the West End community of New Westminster from 12:30 to 1 PM.
​At Knox Presbyterian Church (403 Columbia St. E), we serve the East End of New Westminster from 1:30 to 2 PM.
​At the Queensborough Community Centre, we serve the Queensborough Community of New Westminster from 1:00 to 1:30 PM
​At Gordon Presbyterian Church (7457 Edmonds St.), we serve the South End of Burnaby from 12:30 – 1:00 PM.
​*Standard hampers include dry goods, meat, dairy, breads, and produce. Gluten-free and vegetarian options are also available. We offer outdoors/curbside pickup complete with physical distancing, gloves, and masks. It's a new reality that we take seriously to ensure everyone's safety and peace of mind. 
*No registration required. Visit dontgohungry.ca for more info.
Phone: 604-836-8400 Email: coordinator@dontgohungry.ca
Purpose Society Food Hamper Distribution
Hamper delivery or pick up available. To register contact Ashley at 604-526-2522.
Food distribution occurs Fridays 12-2pm (behind Purpose building on Alexander Street)
www.purposesociety.org/uncategorized/food-hamper-distribution
40 Begbie St, New Westminster, BC V3M 3L9
Aunt Leah's (Youth 15-25 only)
Food hampers available Sundays 3-4pm at 816 20th Street
Greater Vancouver Food Bank
Thursdays 9:30am -12:30pm at Olivet Baptist Church, 613 Queens Avenue
Registration not required, but please bring ID.
Note: closed one week/month, see details at www.foodbank.bc.ca/find-food-locations/
Muslim Food Bank
Arabic and English 604-464-6750
Register online www.muslimfoodbank.ca
Salvation Army
Food Bank Monday and Friday 1-2pm Milk & Bread Wednesday 12-2pm
New clients register at 604-521-2421
325 Sixth Street
For more information on these or other community food supports please contact:
Betina Wheeler newwesthcs@gmail.com